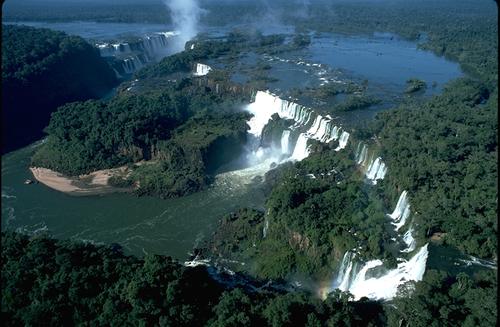 The early morning hours are the best time to visit Iguazu Falls. Not only because the tour buses haven't arrive, but also because the animals haven't gone into hiding--scared by the people or the drown of the helicopters hovering over the falls (see right).
Even so, many of the noturnal critters, among them jaguars and pumas, have settled in for the day. On this day, evidence of a puma is still apparent, starting with the strong scent of the animal and possibly its doomed prey.
Like a crime-scene investigator, Pilar Marcela Lopez points to a section of the dusty Macuco Trail. "You can see here where the puma had been laying on its side," she said. "By now, he's laying on a branch above us--sleeping."
Lopez, a tour guide in the park, is never off duty. Even on her day off, she's giving a private tour to her mother, Elena, who is visiting from the provinces around Buenos Aires--and now, I might add, to my husband and I who happened down the same path at the same time.
Every few minutes we stop to listen to the forest. We hear the rustling of the bushes as an animal flees. Birds are singing and we hear a woodpecker probing a tree for bugs. The most-common animal sighting is the inch-long Tiger Ant. What a great specimen for Pest Control magazine, I think to myself.
After an hour, we arrive at the Salto Arrechea, a secluded waterfall with a calm pool where we could swim and eat lunch. The water was frigid, but that didn't stop me from taking a shower under the water dropping from a precipice 200 feet above my head.
Lopez and her mother headed back and left us on our own. After a while, we ate and headed back on the trail, stopping to assess our surroundings as Lopez showed us. Unfortunately, the only sound we could hear were the buzzing of the mosquitoes--surrounding their unassuming prey.